---




---
Richard Bartrop
Published Images
My work can be seen in the following publications:
YARF!
Take Off #1 ("The Butterfly Effect")
Furrlough #21, 22, 24("Zaibatsu Tears", cover to #21)
Furrlough #33, 35, 40("Zaibatsu Tears", "The Puppet Warriors")
Zaibatsu Tears #1. Published by Limelight Publishing http://planet-hawaii.com/lime
Confurence Souvenir Book 3-6
Freeflight#4 (Cover)
Beauty of the Beasts #2
Edge City. I supplied the box and card art for this cyberpunk board game published by Imagineering. Check out their web page at http://www.cadvision.com/edgecity.
Stuff for sale
I have signed and numbered laserprints available of the Furrlough #21 cover for $20 each. I'm also working on a resin figure of Pi, the principle character from "Zaibatsu Tears" which should be available this summer.
Commission Information
I do comissions. Media range from ink to airbrushed colour pieces, as well as sculpture. Prices depend on what you want. As far as subject matter is concerned, Cheesecake a la Vargas or Olivia is about my limit on erotic content. My preferences run to hi-tech, but I've also done Fantasy/ sword & sorcery work, and I'm always up for a challenge.
Contact Information
You may be contact me by writing to Richard J. Bartrop
#212 211 12th Ave SW
Calgary, AB, T2R 0G9
Canada or by e-mail to rbartrop@freenet.calgary.ab.ca
Sample Images

deself.jpg - 410 x 600 color jpg 51066 bytes - Desert Elf

dolnspc.jpg - 475 x 615 color jpg 52703 bytes - Dolphins in Space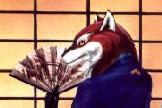 gfox.jpg - 308 x 499 color jpg 30099 bytes - Foxy Geisha

Grey.jpg - 297 x 627 color jpg 33460 bytes - Lord Grey

greymodl.jpg - 713 x 706 color jpg 36871 bytes - Photo of resin kit model.

k9barb.gif - 726 x 1024 b/w gif 26947 bytes - Canine the Barbarian

kahn.gif - 448 x 732 b/w gif 16547 bytes - Kahn

slinps.jpg - 484 x 692 color jpg 64340 bytes - Starliner Passengers

strdncr.jpg - 475 x 706 color jpg 51008 bytes - Stardancer

vergeh.gif - 632 x 990 b/w gif 31297 bytes - Vergeh

vixy2.gif - 600 x 1044 b/w gif 28911 bytes - Vixy2
If you contact Richard as a result of this page, please mention that fact to him.
---
You are visitor number
since we started counting on 1 Nov 95.
---




---
Web page &copy 1995-2010 Tigerwolf
Images used with permission of the Artist
Last revised: 2 Jan 2010